When WardWiz detects the threat or the infected file, it automatically repairs, isolates and keeps it in the quarantine area or repair it as per predefined Scan settings. As the file is infected, we cannot open it or save it with other files, and if we do so the infection may spread to all computer system, may corrupt all files or may spread through a network to the other computers.
But, when the infected file is important and necessary or contains the necessary data, then it can be recovered through WardWiz Recover Tool.
To recover a file using Recover files option continue with the following procedure:
1.
On Home screen, in ribbon menus, click
 Tools >   click

Recover Files.
2.
The Recover Files Window appears.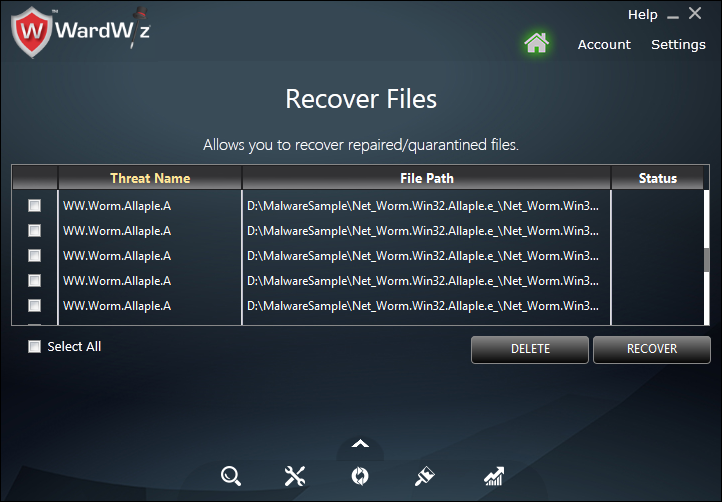 Figure 56 :Recover Files Window
3.
The Window shows you all infected files with respective threat name and status.
4.
From the list select the file you want to recover, or mark Select all to recover all the files.
5.
On Recover Files Window click Recover, the file retains its original form and gets saved at its original position.
6.
To remove the unwanted infectious file Click Delete.
                                           Note : The recovered file may cause infection to other files present in computer system.