Figure 84 : WardWiz Scan Settings Window
On WardWiz Setting Window, at left pane click Scan to set the scanning options, The Scan option turns green.
          On WardWiz Scan Setting Window Click Exclude files to keep out the trusted files and folders from the scan.
          The Exclude files Window appears.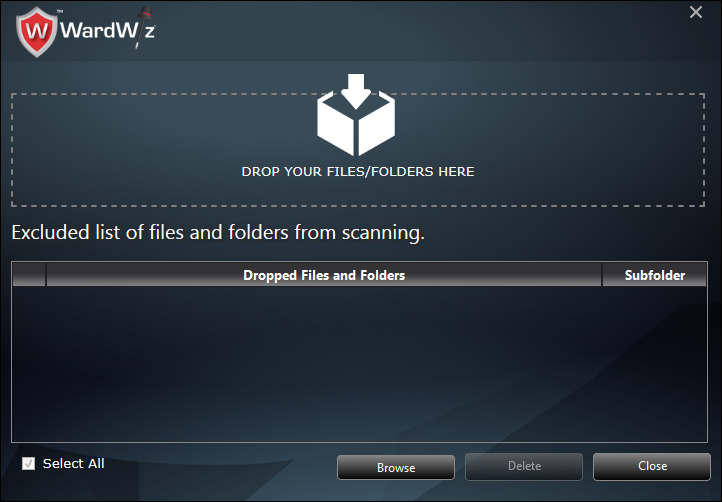 Figure 85 : Exclude File Window
Drag your important files and Drop on 

or,
on Exclude File Window Click Browse to add and keep the file or folder out of the scan process.
    On Exclude File window in dropped files and folders list, mark the checkbox and select Click Delete to remove the file out from the excluding process,
         the file will get scanned.
Locate the file or the folder present on computer through browsing window.
    The file or the folder gets  selected and gets excluded from the scanning process.
2.
Setting for Heuristic Scan
        This WardWiz feature recognizes the behavioral activities of malicious files and helps WardWiz to detect, repair and quarantine malicious files before
        their infection to the files present in your computer system.
        On WardWiz Scan Settings Window, select

to activate and deactivate the Heuristic Scan.
 3.
Setting for Startup Scan
         This Setting allows you to set your choice of scanning type as a startup scan. After setting the scan type the WardWiz will perform the selected scan type
         on each system startup of your computer system.
         On WardWiz Scan Settings Window ,
Select

  to make WardWiz  scan the  computer at startup.
         Next to Scan computer at start up  toggle On/Off switch Click

  , the popup screen asking you to set the Scan type appears.
         Through drop down menu select Scan type you want to set and click OK. The WardWiz performs the set scan type on each computer startup.
                                        Figure 86 : Select the Type of Scan
 4.
Setting for WardWiz alert sound
This WardWiz settings allows you to set WardWiz alert sound settings, using this settings you can turn the sound On or Off.
On WardWiz Scan Settings Window ,
Select

  to enable alert sound which make aware the user on new threat detection .
5.
Settings for External Drives and Devices Scanning  
      In WardWiz Setting Scan Window click toggle ON/OFF switch button to activate Heuristic Scan and allow WardWiz to scan external drives and devices
        automatically when attached to the computer system.
To set the action to be  taken  after detection of malicious program in connected drive or a device click down arrow.

, following options appear.

Prompt User  : Select radio button to get scan request notification when any USB device connects to the computer.

Do not Prompt : Select radio button to stop receiving scan request notification.

Scan Automatically : Select radio button to activate automatic scanning of USB and devices on connection.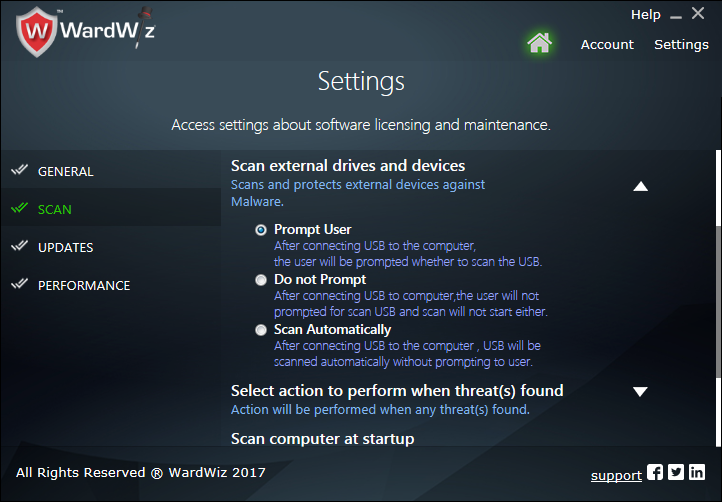 Figure 87 : Scan Settings for External Drives and Devices Window
 6.
Settings for the Detected Threats
         WardWiz is well equipped to encounter the attack of suspicious or malicious programs as per your set instructions.
         you can change the default settings as per your need.
        To set and tune the WardWiz Actions to be Performed on malicious program's detection check the following procedure: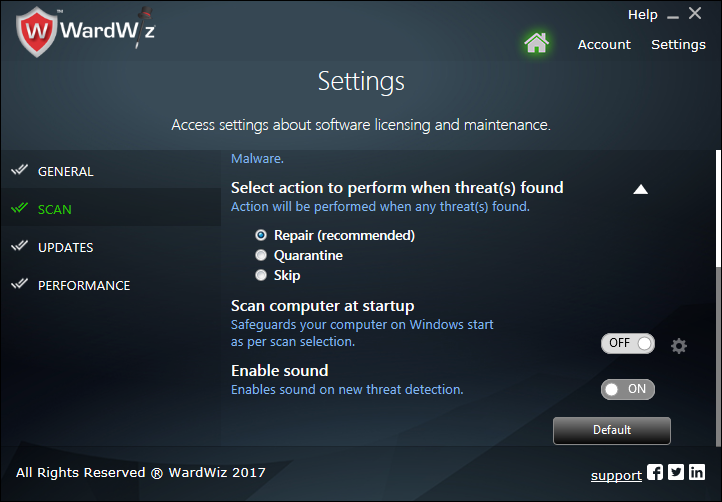 Figure 88 : Scan Settings for Actions to be Performed on Detected Malicious Program
 7.    
At the right bottom of the window click
Support
to contact WardWiz Support team.