Active Scan and its Settings
Active Scan is one of the powerful functions of WardWiz which plays an important role of providing security. It provides extra Surveillance and protection to your computer system. It monitors overall system about Malware activities, as a result as soon as the infected USB device gets attached to your computer, due to this function, the Malware gets automatically identified and cured.
In other scenario, If you unknowingly download any malicious file on occasion, it gets automatically detected.
While operating your computer system if mistakenly you tries to open already infected file then the Active Scan promptly alerts.
Active Scan makes sure that your computer system is protected all the time since system startup until the computer system shutdown.
this security function stays alert, scans and directly  repairs, blocks or quarantine if  the downloaded, running or accessed file appears malicious.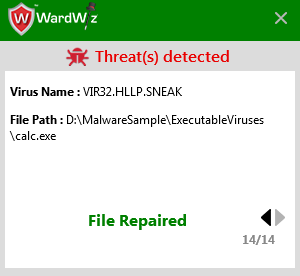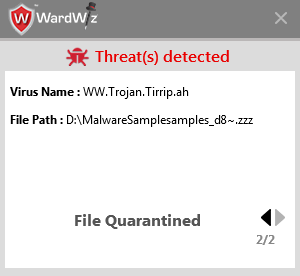 Figure 50 : Detection alerts
  On Taskbar, at right corner Right click on

WardWiz Icon

.       

                   

 

    The Right click setting menu appears, Point to

WardWiz Active Scan

, Active Scan Settings option appears.

    Click

Enable Active Scan

to keep the Active Scanning On.

             Click Disable for 15 Mins. to disable it for some time.

             Click Disable for 1 hour to disable it  for an hour.

             Click Disable it until system restart to stop it until next restart of your computer system.

             Click Disable permanently to keep the Active Scan OFF.

 

            Important: You can make Active scan feature On by clicking Enable Now in the notification

                                   area on the home page, WardWiz notifies when you turn the Active scan Off.